i LOVE when i find a workout that doesnt feel like a workout. The type of workout that's just something you do for fun and it happens to burn calories…. like roller skating or biking at the beach… or kayaking… or an indoor ropes course!
I had never been to one of these kinds of places, honestly, hadnt even heard of one! but the minute i did, i knew i needed to go! I saw Xtreme Action Park while driving along the highway one day. It's located in Fort Lauderdale, Fl. I wasnt sure how i had never noticed this giant building but I found out they only reopened a couple months ago after the previous business was closed for several years.
The place is cool. Think of Dave & Busters. The arcade isnt quite as big as you might find at D&B, and rather than a full menu they just have a snack bar, but everything else is SO MUCH COOLER! (and that's saying a lot because I am deff a Dave& Buster's fan). So what do they offer? A full bar. A bowling alley. An AWESOME indoor race track. Lot's of games. Private rentals for parties. and dun dun dun dunnnnnn….. an indoor ropes course!!
The course is about 20-25′ off of the ground. There are two places to go up for come down, but there's no set pattern to how you have to do the obstacles. It's totally possible to skip obstacles you don't want to try, you wont ever get stuck somewhere with only one option. I went around noon on a week day and there was only one couple on there with me. I don't think it is something I would enjoy quite as much if there were a bunch of kids up there, which i would imagine on the weekends. Nothing to do with the kids, but they would make me a little extra nervous for sure!
it took me about 30 minutes to try all the obstacles. I was wearing long sleeves and i was dripping sweat by the end of it. My feet were also hurting from being so tense and trying not to fall. I pushed myself to do every single obstacle no matter how scary it looked. The course definitely requires some strength to complete entirely, although you could deff go up there out of shape and just screw around and still get a good workout and have some fun. I had to pull myself with my upper body and climb with my lower. I had to use my core for balance. This course is deifnitely a full body workout! However, dont be scared to try it if you're not in the best shape. You are in a harness and attached to a zipline. If you fall, you won't crash to the ground. You'll be saved. Remind yourself "they dont want anyone to die." That's what I told myself over and over LOL
I had so much fun and was so excited to get home and see my Go Pro video! When I got home I realized i had somehow moved it before starting and the whole thing was facing the wrong direction! Since i had so much fun, I used this as an excuse to go back the next day and do it again!
To my surprise when I went back I found out thursdays are Ladie's Night (all day) and ladies are half off, so rather than $20 it was only $10! Nice!
The second time around was definitely a bit less scary because i didnt have to wonder "am i strong enough? am i balanced enough?" I already knew I could do it. The difference in my heart rate from the first time to the second was crazy, though. The first time, it was beating so fast my Fit Bit thought i was doing cardio. That was all fear LOL the second time around my heart rate was much lower, but I definitely still got an equal workout.
SO would I recommend the Ropes Course at Xtreme Action Park or an activity center near you? Absolutely! I can see myself as a regular here! Such a great way to have fun, step out of your comfort zone, work your muscles, and burn some calories!
First Time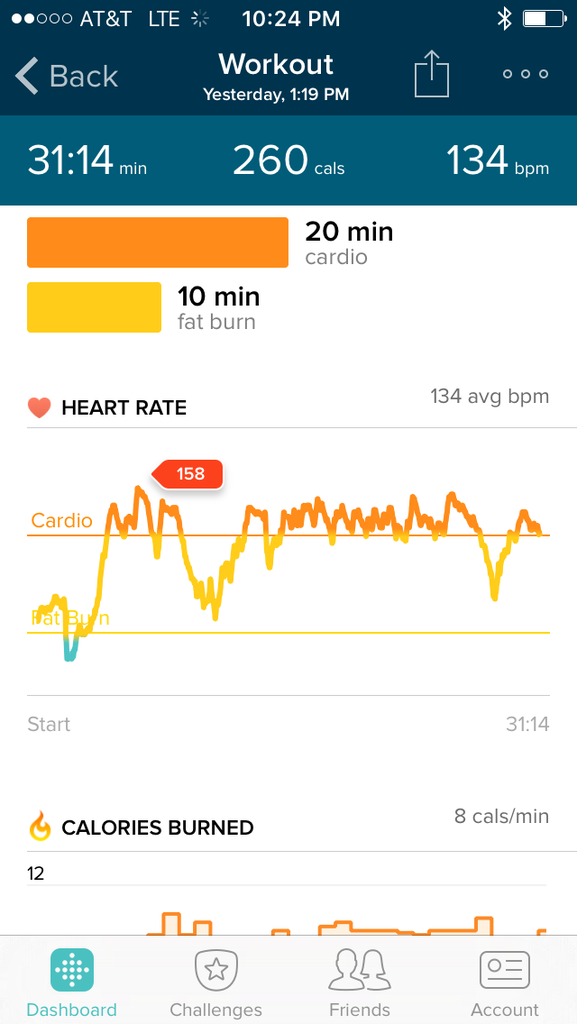 Second Time