Finally had my rescheduled 6 months check in with my plastic surgeon yesterday!! If you haven't read it this is what happened at my 3 month post op appointment.
The good news is that the area that sticks out on my sides is pretty much gone. I dont really feel like i have a muffin top any more so I think that the tape for 3 extra months really helped. Unfortunately it didnt help with my back, which still has a bit of a bulge. The nurse that was in the room looked at me like i was crazy when i suggested Lipo'ing it still. in her words "girl, you have no body fat". absolutely untrue, but she was a regular sized girl. as a big girl i wouldve seen future me and thought "she is skinny!" but as a regular sized girl i see myself chubby still. So when another regular size girl is literally looking at me naked and telling me i do not need lipo, it kinda helped.
Dr doesnt think its worth lipoing. He is also concerned that it might cause rippling in my lower back, which isnt crazy because i already have a little bit of rippling in my lower back as it is. I think id rather have the buldge than a ripple. I dont know that i am going to burn it off because im really not trying to lose weight right now and even if i was, we do not get to pick where our fat burns from first. I am going to try to "work it out" for a year or so and if i see no difference i may get a second opinion from another doctor. My doctor did take new pictures and said he would show them to the other surgeon who had given me the medical tape/waist cincher tips at my 3 month appt. If he thinks that i would be a good candidate, he is supposed to call me. We will see. I didn't leave feeling pissed the fuck off like i did my 3 month appt, so thats a good thing. Some days when i catch my reflection just right, i want to scream because i am annoyed by it, but most days i can acknowledge that as an overall package, i do not look half bad. Most days i honestly do feel like i look GOOD.
As for my stretch marks around the belly button- they definitely got worse since my last appointment. There is no confusing them with a possible rash now. My doctor said he's never seen this before. i guess this is my badge of honor for being the most easily stretchmarked woman on the planet. i am SO much smaller now than right after surgery, i believe they started because my skin was so stretched for so long from the swelling and the scar tissue around my belly button button has no elasticity. i am pretty much sure when i have a baby some day my entire stomach will stretchmark horizontally… so the whole "you may need another small tuck after children" idea just got pretty real. fuck it.
something i learned at this appointment is that when scars are red its because there is activity happening. I couldnt understand why some areas are white and some red and why theyre so much redder after i workout. the white ones have fully healed and the red ones get more red after a workout because theres so much blood flowing. pretty cool! I also no longer have to wear my garments. I still am lol not to bed at all for a little more than a month. I take longer periods between taking one off and putting a new one on, but i am a lot more comfortable wearing them while working out. i will prob continue that for a while. My workout one actually has like 3 holes in it right now lol so i guess when it completely busts at the seams, i will retire it LOL
he said i could either make an appt to come back in 3 months or go back on an as needed basis. i chose the as needed because i dont feel like theres much he can do for me at this point that makes worth sitting in the waiting room for an hour, worth it lol. if i have any issues or change my mind about lipo, ill call. but as of now, i am officially released! I think i am likely going to make a youtube video chronicling my surgery and showing my scars now, soon. Considered waiting till my one year post op but not sure i want to wait that long! if i do, itll be posted here first!
today i had lunch with Raquel from MiamiFitWear. I am going to be a sponsored athlete for her brand and i am SO THRILLED! i mean, the sponsorship is great, she has great taste and quality clothes, but i am mostly excited about working for her cause. yes, she sells pants, but her real mission is to empower women and raise their self worth. Talking with her was amazzzzing. Ever sit down with one of those people you end up telling your life story to and dont even think twice about whether or not shes going to judge you for it? thats her. We had some great conversation and i actually almost cried a couple times. She is so real and so kind and so strong and so logical. I am so excited to have met her. Just another example that the universe is always at work bringing exactly what youve asked for. I wanted to be surrounded by more people "like me" who "get me" and they just seem to be popping up left and right! i will definitely be keeping you guys posted about my role within the company and their upcoming releases and events! I can feel we're going to do great things!
3 months post op vs 6 months post op- can you tell ive been working out?! lol 😀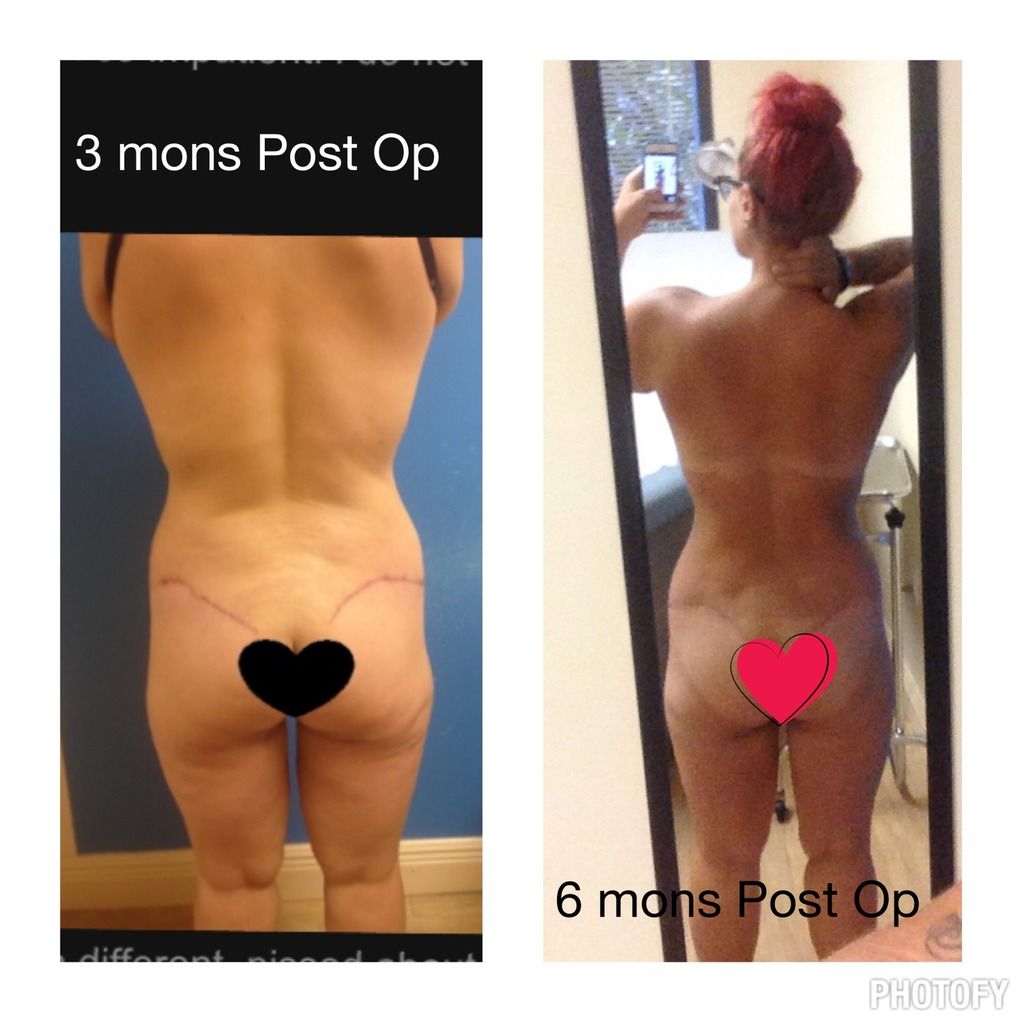 Backside is looking NICE! sorry not sorry, i neeeeeeeever liked my back or butt. i came from no ass and lots of back fat so i could seriously look at this pic all day lol

3 weeks post op- swollen like crazy!!! lol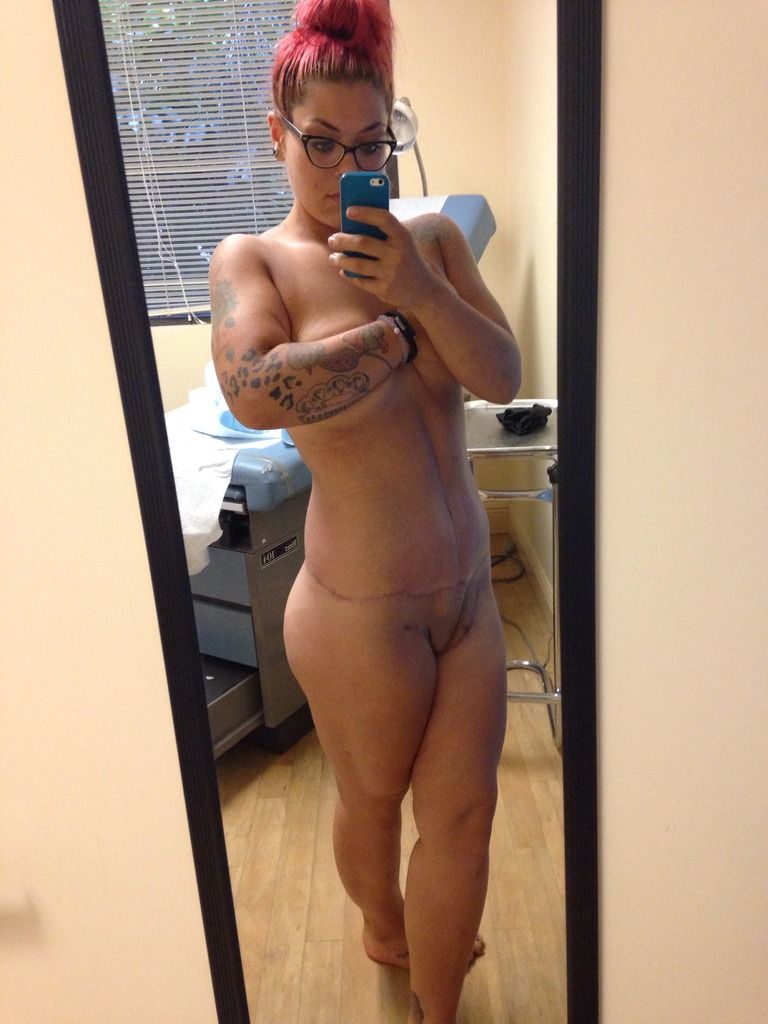 before anyone trips- please notice my actual vag is BLURRED, i didnt want to put a heart because it was covering the thigh scars. plus, were all grown ups here, right? if you look at my lower back above my incision you can see the bulge. overall, i think i look pretty freaking great, but that is the ONE thing i would change if i could!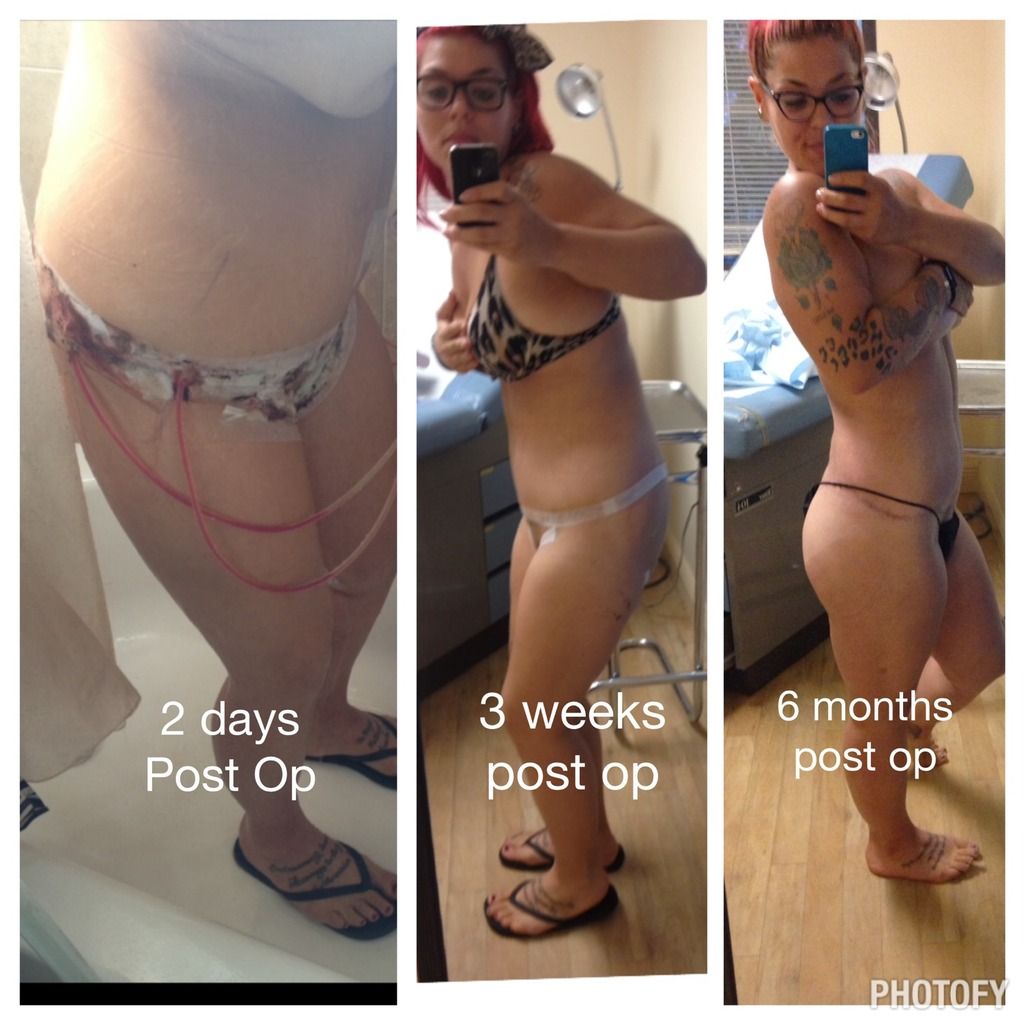 MAJOR thigh and butt gains!!! i am so proud of this pic! you can see so much progress!!! obv im less swollen and standing up straight, but i am proud!!!

the new stretchmarks werent red when i took this, you really cant even see them when theyre not red.

and lets just take a minute to remember where i came from!!! lol