So this is what my workouts looked like this weekend…
Friday: 4 mile beach run
appx 90 minutes pole dancing
Saturday: 2 mile beach run
BigGirlBootCamp
Sunday: Down and Dirty Obstacle Race Miami

lets just say i am going to sleep like a BABY tonight lol.
Friday morning I spoke at a career day at a local middle school. I was presenting my Weight Loss Coaching business with BigGirlFitGirl and if we're being honest, I was terrified! To start, i havent done any public speaking since high school and I dont thinks it's like riding a bike and you just pick it right back up… it takes practice to get good at it! I decided to write out my whole presentation so i wouldnt risk losing my train of thought and forgetting what the heck i was talking about. I also made a power point of pictures, so the presentation part was well prepared. But i was still scared. And honestly, thats because of the audience. teenagers scare the crap out of me!
as a teenager i had a few people poke fun at my weight, but i wasnt tormented or anything like that. my real hate for teenagers came as an adult when i realized they had absolutely no respect for me. as an adult i have been laughed at, yelled obscenities at, and made fun of by teenagers way too many times. The most painful experience was definitely the first day i tried to run. I had been walking, late at night because i didnt want anyone to see me. I had this desire to try to jog a little bit and i was super nervous. i knew i couldnt get far and i didnt want anyone laughing at how pathetic my attempt would surely be. I was doing a slow little jog/walk combo and i came to one of the main roads. so far so good, i kept going. I hadnt seen anyone yet, it was about 11pm and most people were at home. And then it happened. a car full of teenagers with the windows down rode by me nice and slowly and MOOOOOOOOOOOOOOed. Like a cow. i knew they were young based on their high pitched laughs as they drove away. i was mortified. i have gone to the beach in a bikini during spring break and things like that to force myself to be around teens and i am getting better, but this was going to be so personal. in random public places i can convince myself that people are laughing about something else. however, if i turned on that power point and they all started laughing at my "before" picture, i was going to be so embarrassed. I did my presentation for 3 classes. Not only did none of them laugh at my, but the teacher who had invited me to speak texted me later that day that they were raving about me. i left there feeling like a million bucks. Since i had to be there at 7:45am and hadnt gotten a workout before, i decided it was the perfect time for a beach run and did just that.
I had been invited to the grand opening of Pole Felony Fitness Studio by my friend @get_fit_tory and i was playing with the idea in my head. i had been wanting to try pole fitness for a long time and it seemed like the perfect opportunity. it was the grand opening so it wasnt so much as class as a few of the instructors just teaching us the basics and letting us play around. it was soooo scared. major fat girl complex. what if i broke the pole? what if i coudlnt hold myself up? i had never even tried to use a stripper pole before, and my best friend has one! lol but the time had finally come…. and i wasnt half bad!! i mean, i dont know that i was a natural, but i was more natural than any other kind of dance. It definitely requires a lot of strength and it is a major full body workout. i definitely broke a sweat. There were some super talented girls there yet i didnt feel like anyone was judging me for being a beginning. youre supposed to wear shorts and Tory and i were super nervous about that, but we looked pretty damn good and that lighting is honestly very flattering lol. i look forward to getting some cute little outfits and heels that i otherwise cannot wear in public, and going back!! It was crazy because i usually do not feel sexy at ALL when i dance because it feels so unnatural. However, i did feel sexy at this class! i havent felt that hot in a while!!
That night my legs hurt SO BAD. i couldnt even touch them. it wasnt like sore muscle pain though, it was bruising and throbbing. talk about horrrrrible lol it had subsided a bit by the morning and i took my ass to the beach for a quick run and to BigGirlBootCamp. When i got home i soaked in a hot bath for a while because my legs were really sore.
This morning i woke up and the soreness in my arms from pole dancing had kicked in. Damnit. Lots of stretching and foam rolling was in order because i had the Down and Dirty Obstacle Race! I hadnt planned on running it, but a friend of mine had two extra registrations and offered them to me, no way i was going to refuse! My boyfriend has never done an obstacle race before, which is crazy to me because they were made for him. A workout, a challenge, and child like fun… i knew he would love it! Unfortunately, he work up with a bit of cold feet. He has been working a looooot lately and not getting much sleep so he was exhausted this morning. On top of that he hasnt been working out a ton and hadnt prepared for it at all. I knew that he could do this course with zero training, on his worst day, but he was running through his excuses. It was crazy because i was listening to him and all i heard was "IM SCARED!" he sounded exactly like me the morning of my first race. the difference is, i was scared i wasnt capable of doing the obstacle and he was just scared he wasnt going to be the best at all the obstacles. of course he ddint exactly admit this, but i know it because i could feel it. i felt the fear, and he did it anyway. I was proud of him.
we hadnt even been there 10 minutes and he was already saying he was glad he came. The expo area had free paul mitchell hair products and free morning star and lara bar samples, so i was pretty impressed! we got stretched, downed some pre-workout, and got in the corral. this definitely wasnt my best race. it was only 3 miles but we did run the entire thing. I dont think ive ever done an obstacle race before where i didnt do at least some walking. Of course my "exhausted & undertrained" boyfriend, who also happened to have a belly ache, was out running me and doing the obstacles all extra quick lol. I kept up though, and i did every single obstacle. In the past random strange men have helped me with obstacles and i always thought it would be so awesome to race with someone i was dating and get help from them instead. go figure i finally date someone who wants to do a race with me and at this point i didnt need any help with the obstacles! over all we had a really awesome time and i think ive made an obstacle racer out of him.
something interesting i noticed… this one time my boyfriend and i were going to the beach to workout and he was looking for a shirt, i asked why he needed a shirt for, and he said sometimes he just didnt want any attention. I thought it was interesting but didnt fully understand. i mean, he is fine, but i am biased, and i assumed it would be pretty flattering but also pretty easy to ignore oogling eyes. and then he took off his shirt during an obstacle race. what in the hell! first of all, youd think i am just going to talk about women, but several men commented on his physique (and keep in mind he "hasnt been working out") however, women are just as bad, if not worse, than men! i couldnt believe the women who actually said things or cat called. On two occasions i was right on the side of the woman! this didnt make me jealous as much as it made me insecure. to me it kind of suggested that they had absolutely no freaking clue that was my man. At some point i would pass them and catch up to him and one woman continued with "chizzled for shizzle!" right while i was by his side! like what in the?! is this woman so disrespectful she would hit on a dude with his girlfriend on the side of him, or did she not put two and two together that we were a couple? like i said, i know he is good looking, but i didnt realize what a spectacle he would be and that makes me wonder what people are thinking about me being with him. Im sure some people are thinking "aw, he must be a really nice guy" but i also know haters are thinking "how the fuck did she get him with her stretchmarks and jiggle?" however i wish everyone would just look at us and think "what a beautiful couple!" because thats the most accurate thing to say 🙂
the final result of my weekend… sure there will be more by morning lol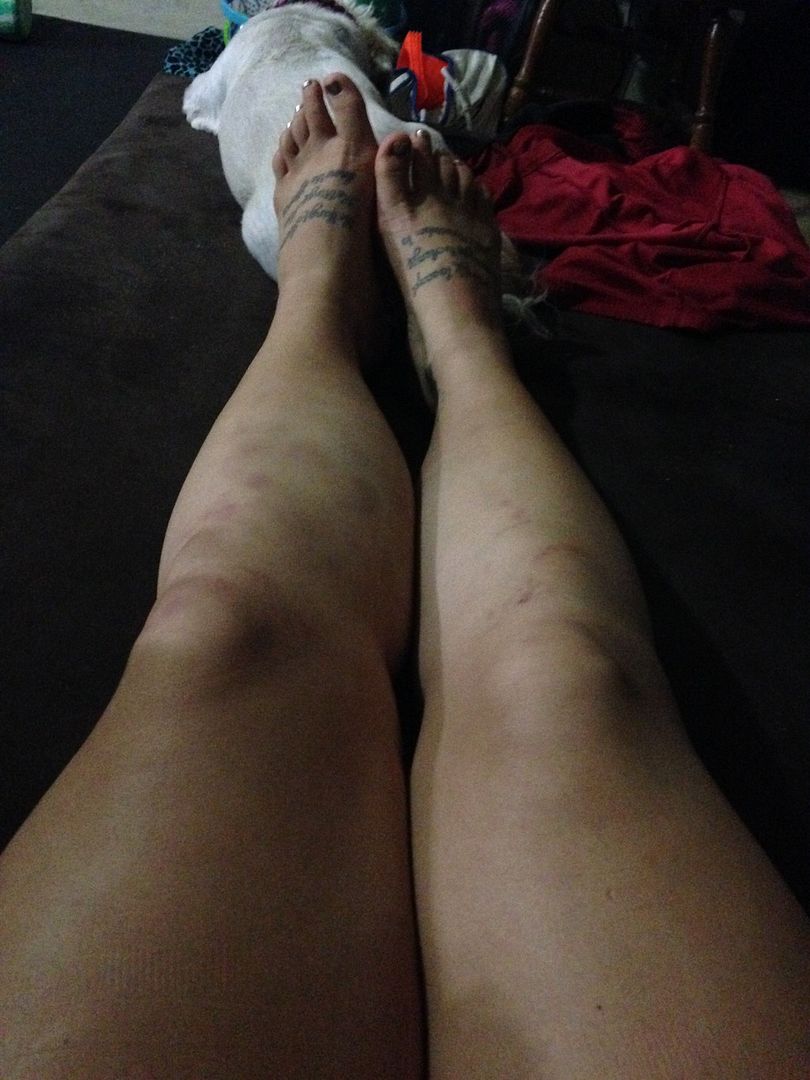 Pole Fitness!
Click to play!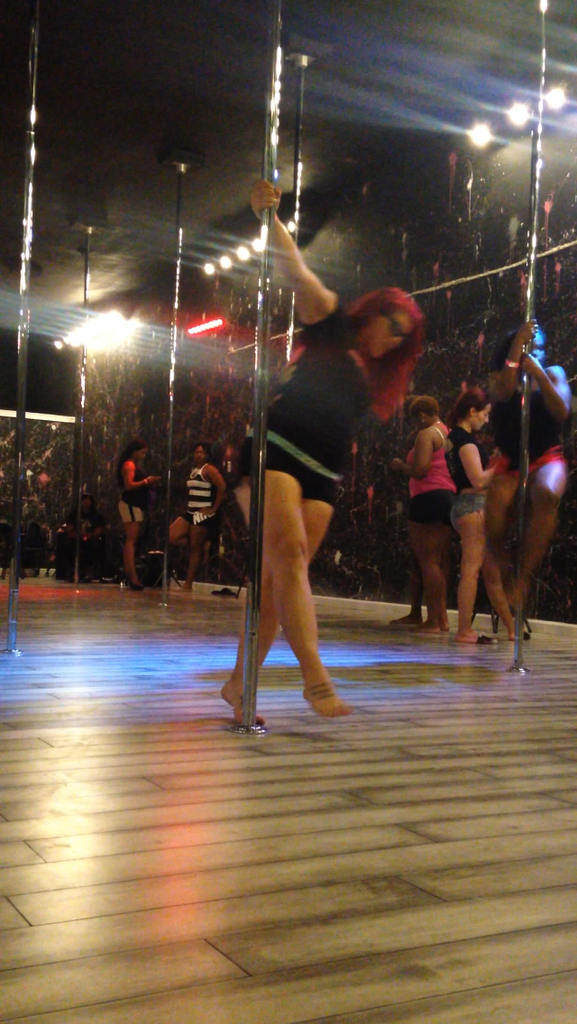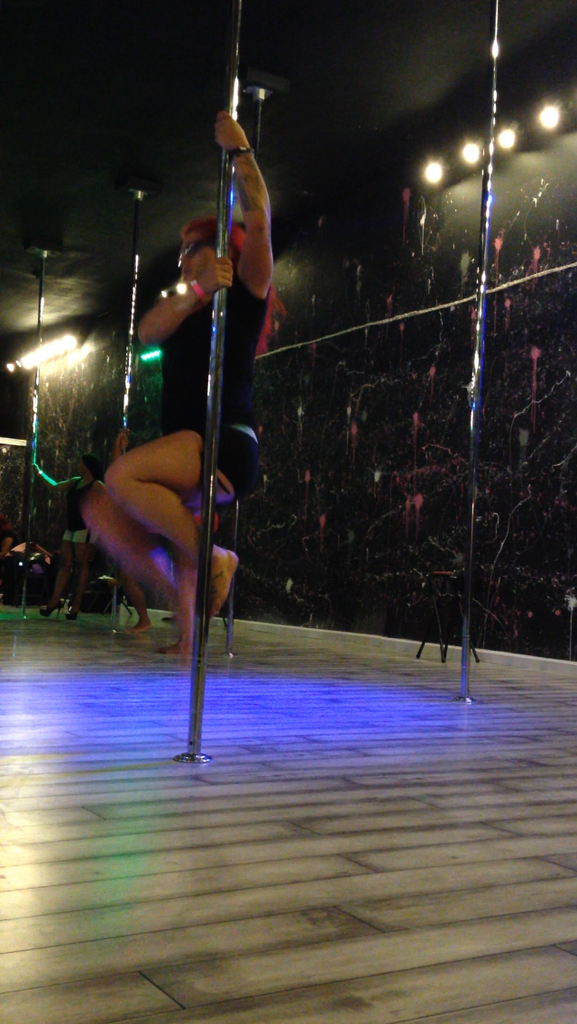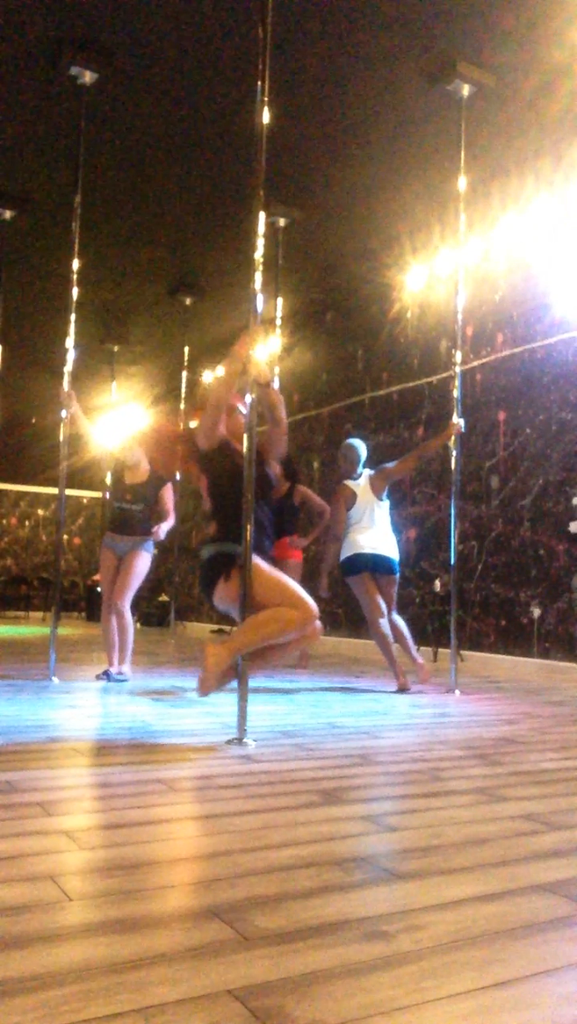 me & Tory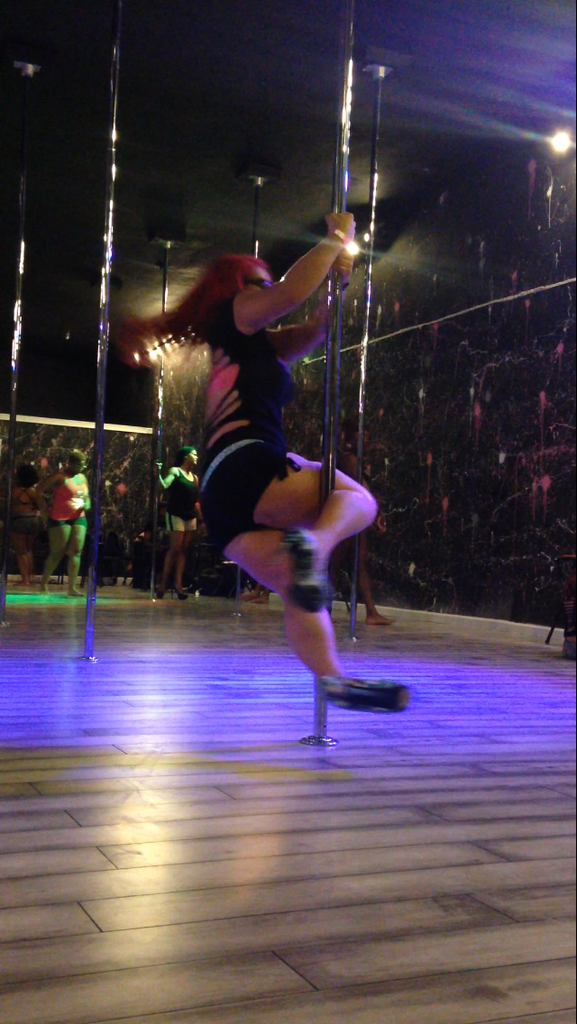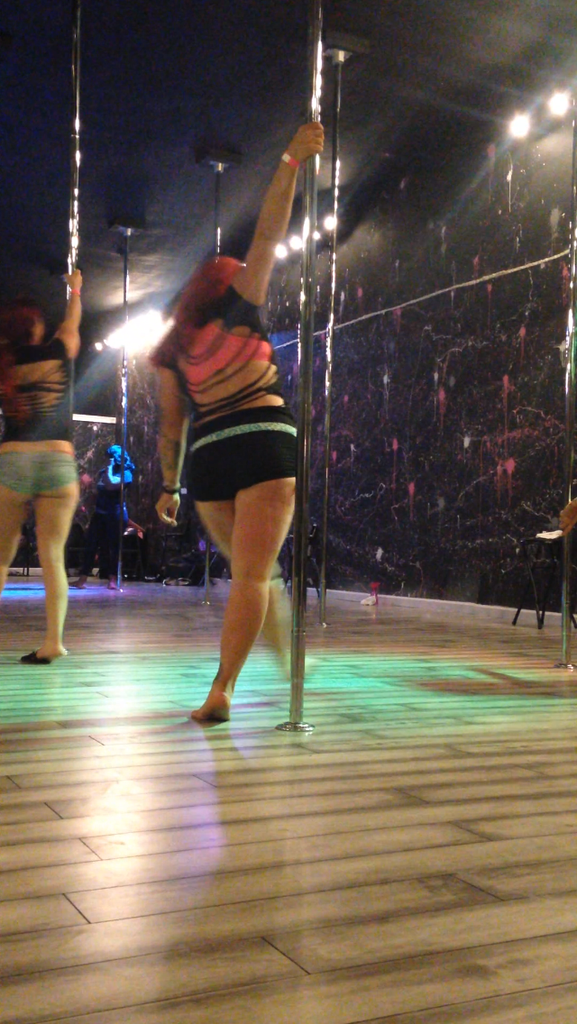 Down & Dirty Mud Run!
Click to play!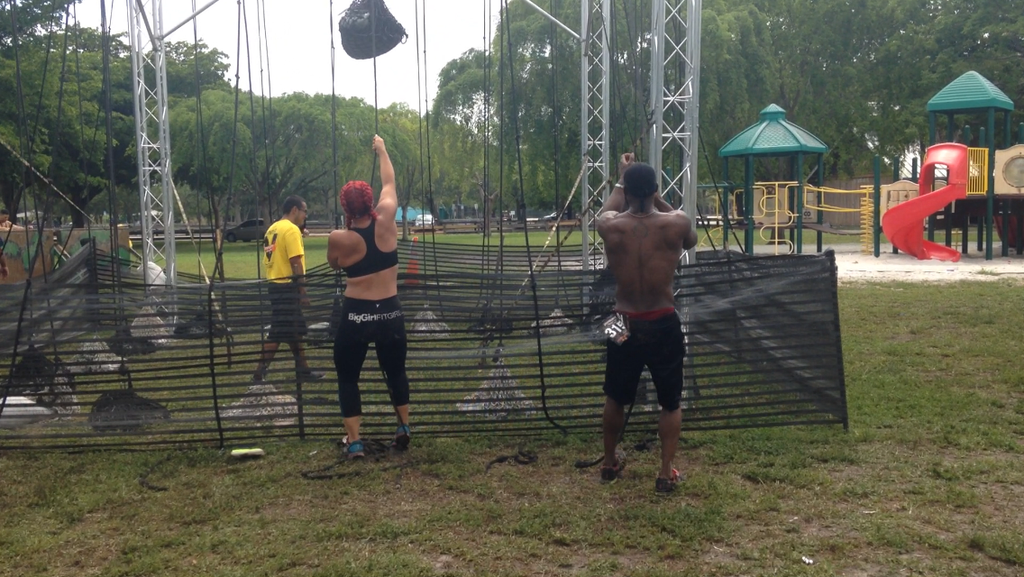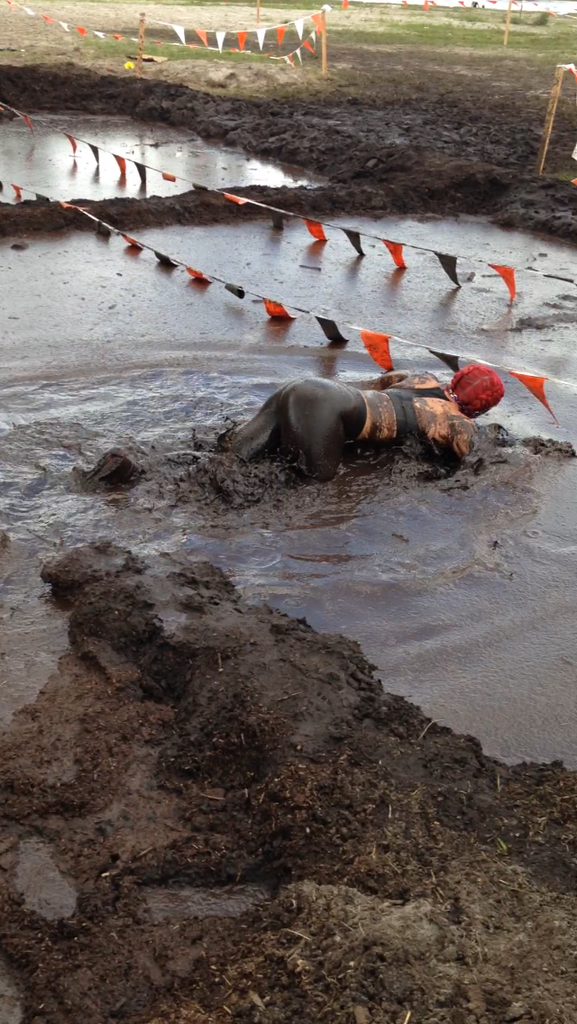 morning star samples!

and possibly my favorite picture of all time <3