I recently visited the beautiful island of Vieques, Puerto Rico and I tried one of the most delicious dishes while I was there… mofongo. Mofongo is a dish made of green plantains, mashed and fried up, and served with a red sauce with pork and vegetables in it. Before a plantain is ripe it has a starchy consistency, similar to a potato. The versions of mofongo I had were all vegetable mofonogo, but still very different from each other. One time the green plantain base was shaped almost ball like. At another place it was just kind of a blob. At others they make it a shape of a bowl and serve the toppings inside! I knew once I got home I wanted to recreate something similar myself, but with as little frying and as healthy as I could. Fortunately I have a plantain tree right in my back yard so i had plenty of ingredients to play around with!
I made this recipe three times. Twice exactly as described. The second time I added a package of Beyond Beef instead of the Beyond Meat and diced up a sweet plantain to add to the sauce and veggies. It was sooooo good and so filling both ways! My non vegan friends loved it and I bet yours will too!
Ingredients
4 small green plantains (or two med/large)1 cup plain tomato sauce
1 cup diced tricolor peppers
1/4 white onion, diced
2 servings Beyond Meat
1 tbsp vegetable stock
2 tbsp garlic
1 tbsp coconut oil
1/2 tsp chili powder (more or less to taste)
1 tsp crushed red pepper (more or less to taste)
sea salt (to taste)
Method
Preheat the oven to 425 degrees. Peel the plantains with a knife similarly to how you would peel a potato; the peel is much too hard to peel like a regular banana. Cut the plantain into 1/2 inch chunks. Warm 1/2 a tbsp of coconut oil in a frying pan on medium heat. Add the plantains & half of the garlic, mix well, and cover. You will want to uncover and mix them up regularly until they become slighty yellow and soft. Adjust the heat as needed if the outside is browning but its not quite soft yet.
Once the chunks are soft, combine them with the veggie stock and a dash of sea salt. You can either mash them with a mortar and pestle or in a food processor. Next you'll want to make them into balls, or honestly, whatever shape your little heart desires. I used a tablespoon and took over flowing scoops and then shaped them into balls with my hands. Hands get a little easy but it's easy to clean. The first time around I baked them on a cookie sheet sprayed with natural cooking spray. That worked fine, but the second time i got a bit more creative and used a small muffin tin! My balls fit perfectly and it gave a little extra brown on the sides. Put them in the oven for about 15 minutes, just enough to get a little brown on the outside. You can even put them under the broiler for a minute!
In the meantime warm the remaining coconut oil in a skillet or frying pan on medium heat (i used the same one I cooked the plantains in) and add diced veggies. Once the onions are starting to look clear add the sauce, remaining spices and garlic and mix well. Turn down the heat and allow to simmer for a few minutes. If you prefer a thicker sauce, it will thicken if uncovered. In a separate pan, warm up the Beyond Meat according to packaging. You could also shred or dice it and mix it in with the sauce and veggies. I chose to leave it in whole form because it just looked so pretty. 😉
Once the plantains are out of the oven, allow them to cool so you can plate them. Cover with a light layer of the toppings, place the "meat", and add a bit more of the sauce and vegetables. It reheats well and I am willing to bet it would freeze pretty well, too. Makes two servings and doubles and triples well.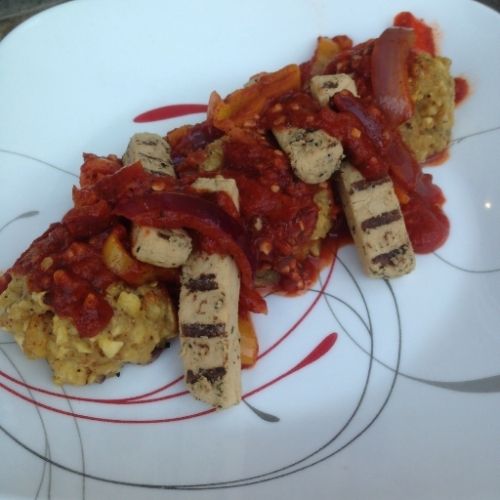 Finished product with Beyond Meat.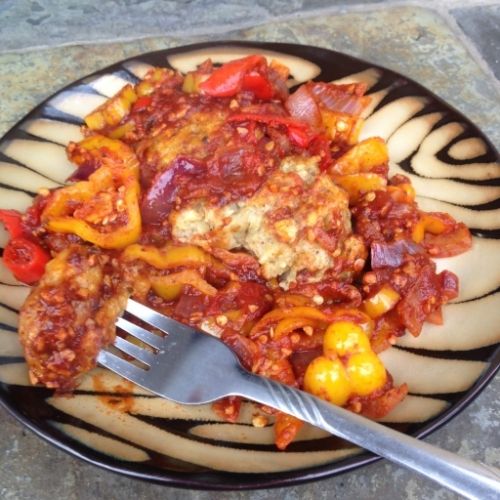 Veggie Mofongo, no beyond meat.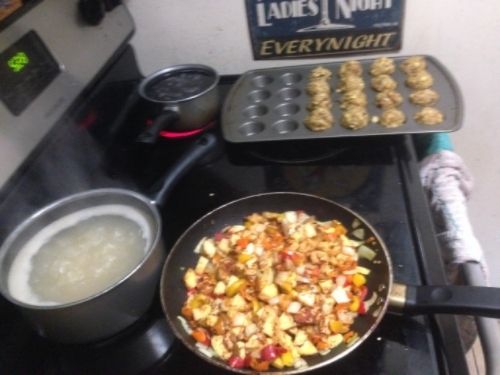 Cooking mofongo with sweet plantains- the first time I used the muffin tin.